Plans include expansion of eScript, an electronic prescription notification service and an accelerated rollout of video consultation system for consultants and GPs
Healthcare technology company, Clanwilliam Health, today announced the national expansion of its electronic prescription notification service, eScript, in an effort to help Irish GPs and pharmacies as they seek to deal with the impact of COVID-19 here in Ireland. The company also announced plans to accelerate the roll-out of its video consultation service for private consultants and GPs to allow them to consult with and triage patients without bringing them into their clinic. In recognition of the current healthcare crisis, these services will be made available for free to GPs, Consultants and pharmacies throughout the coming months.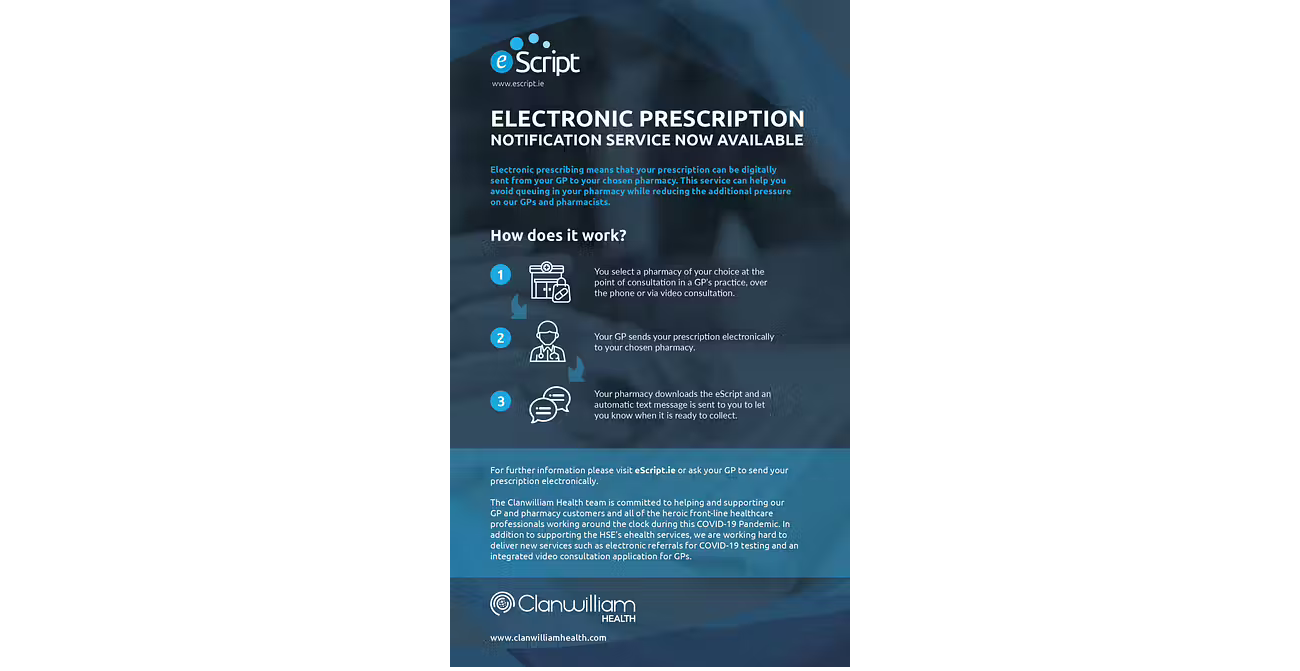 The eScript service has undergone extensive testing by Clanwilliam Health through a network of 705 GPs and 445 pharmacies who now use the service day-to-day. The eScript service safely sends a secure notification of the prescription details directly from the GP's computer to the patient's chosen pharmacy allowing that pharmacy to start preparing the prescription before the patient gets there. An automatic text message can also be sent to the patient once the prescription is ready for collection. With the need for social distancing and many people nervous about going to shops and pharmacies, this solution can help people get their prescription fulfilled without the need to handle the script or to stand around waiting in a pharmacy environment.
In a further effort to support patient care, Clanwilliam Health is also making the move to accelerate the availability of video consultations for consultants and GPs in Ireland. This new feature within the Company's healthcare-focused software systems will enable consultants and GPs to conduct remote video consultations with their patients through their software system. This means that all video consultations are securely conducted within the software which already maintains a digital record of the entire patient medical history including previous consultations, prescription details, treatment records, and allergy information.
This new functionality was released to 300 medical consultants this week. Plans to accelerate the rollout have been put in place so that the service is available to all consultants and GPs during the COVID-19 pandemic to facilitate the best social distancing practices for all patients, particularly those in high-risk categories. The next phase will make the service available to over 50% of GPs in Ireland in the weeks ahead, in turn serving over half of the patient population in the country. Clanwilliam Health expects the service to be available in all its products within a matter of months.
"The impact of COVID-19 is widespread across the country and we know that during this time our healthcare professionals are under enormous pressure. While the focus is on flattening the curve and stopping the spread of the virus, there are still people who need contact with their medical professionals to treat other minor illnesses and in other cases support them with existing conditions. Through the range of services we're announcing today we want to help the healthcare sector at this time, and particularly GPs and pharmacists, to help them meet their patients' needs while still practicing the advice of social distancing."
Eileen Byrne, Managing Director of Clanwilliam Health